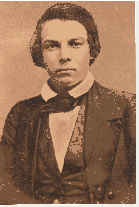 Thomas J. McMichael, Trooper, 1st Louisiana Cavalry Regiment, CSA
Thomas J. McMichael was born in Clio, Livingston Parish, Louisiana on May 31, 1839, to George McMichael, III and Eliza Louisiana Davidson. George McMichael, III was the descendant of George McMichael, Sr., of Scotland. Thomas had a twin sister, Martha Jane that died in 1845. He also had an older sister, Mary Serena McMichael, born June 7, 1835 and she married William Joseph Sharp, I, in Livingston Parish.
At the age of 21, Thomas enlisted in Captain C.W. Keep's Grosse Tete Rangers, Louisiana Militia. Shortly thereafter, Colonel John S. Scott was recruiting for a cavalry regiment and Capt. Keep offered the services of the Grosse Tete Rangers to him. The company was accepted and designated Company A-Ed Moore Rangers, in honor of the business man that financed the company.
The company was mustered in at Camp Schlatre, in Plaquemine, Iberville Parish, on August 26, 1861 and began their training there. The company was mustered into Confederate service along with the other 9 companies and designated the 1st Louisiana Regiment of Cavalry.
Co. A, Ed Moore Rangers were nicknamed the "Rattlers" due in part to the rattlesnake rattlers that each trooper had attached to their hats and partially due to the fact these men meant business when in a fight and was proven over and over throughout the war.
Trooper McMichael was with the unit throughout the war and during a skirmish near Louisville, Ky. in 1863, he was shot in the shoulder, just above the armpit. He refused to be treated at a hospital and remained in camp several weeks until able to rejoin the regiment, the bullet never being removed.
Thomas was with the regiment when it went to Gainesville, Ala. to surrender but refused. He and several other Troopers refused to surrender and left for home as the regiment was being surrendered.
He never surrendered nor would he ever sign the Oath of Allegiance to the United States Government.
Thomas returned to his home in Livingston Parish and worked as a farmer and on February 12, 1878 married Sophia Redmond. They moved to Acadia Parish in 1890 and made their residence in Evangeline, La. In that same year, on June 14, 1890, Sophia died in childbirth of their daughter, Nellie McMichael.
Of the six children born to Thomas and Sophia McMichael, only three lived beyond 3 years of age. Frederick McMichael, born 5-20-1880, Emma Alice McMichael, born 8-24-1882 (my grandmother), and Jonathan Redmond McMichael, born 2-23-1886.
After the lose of his wife, Thomas was left to raise 4 small children on his own. With a bullet wound in the shoulder that would become infected and swell and cause great fever spells, he could hardly earn enough to feed and care for his family. In 1893, Nellie McMichael, age 3, died. He did day labor and raised a small rice crop to support the three remaining children and himself.
In March, 1904, due to age and his wound, he applied for his Confederate Pension and was approved, only to die from complications from his bullet wound in 1907. (Pension Application No. 2682)
I still remember my Grandmother telling me how Thomas would suffer from his wound and how the right arm and side of his body would swell so large that it would appear that it was another person there.
I am very proud of my Great Grandfather for his unbending faith in the Southern Cause and for the sacrifices that he made and endured for it. I hope that the people of this nation will someday grasp and understand the reasons for our pride in our great "Southern Heritage".
Thomas C. Cardwell