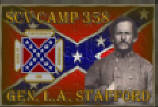 Gen. Leroy A. Stafford Camp 358
Sons of Confederate Veterans, Louisiana Division
Headquarted in Alexandria, Rapides Parish, Louisiana
General Leroy Augustus Stafford
This camp is dedicated to the memory of our native son, Leroy Augustus Stafford, who served with honor and conspicuous valor and paid the ultimate price required of all warriors on behalf of his country, his state and his comrades-in-arms.
Charge to the Sons of Confederate Veterans
"To you, Sons of Confederate Veterans, we will commit the vindication of the cause for which we fought. To your strength will be given the defense of the Confederate soldier's good name, the guardianship of his history, the emulation of his virtues, the perpetuation of those principles which he loved and which you love also, and those ideals which made him glorious and which you also cherish."
Lt. General Stephen Dill Lee, Commander General, United Confederate Veterans, New Orleans, 1906

Pledge to the Confederate Flag
I salute the Confederate Flag with affection, revereence, and the undying devotion to the cause for which it stands.
Staff Officers of Gen L. A. Stafford Camp 358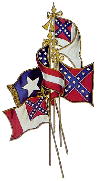 Commander: William "Bill" Price
Lt. Commander: Charles Neal
Adjutant: Randy Chenevert
Chaplin: Ed Atwood

Meetings of the Gen. L. A. Stafford Camp 358
Meeting Location: Forts Randolph & Buhlow State Historic Site
Address: 135 Riverfront Street, Pineville, Louisiana
Meeting Date & Time: First Tuesday of each month, 6:00 P.M.

2015 Gen. L. A. Stafford Camp 358




Members of Camp 358 Ancestors' Photographs
The Flag of the Confederacy
Application for Membership
Forts Randolph & Buhlow State Historic Site

Researching Your Confederatge Ancestors and Lineage